Hastings Pier shares sales total more than £70k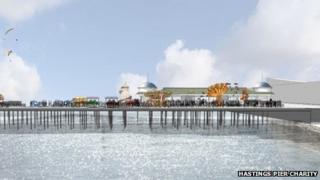 More than £70,000 worth of shares in Hastings Pier have been sold in 10 days.
They were purchased by more than 400 investors after the 140-year-old structure was destroyed by fire in October 2010.
The pier is being rebuilt with £14m, raised mainly through the Heritage Lottery Fund.
Hastings Pier Charity hopes a further £300,000 can be raised by selling 3,000 shares for £100 each.
The charity said the money raised will be used as part of the refurbishment.
The shares went on sale on 5 October.