Two dementia wards at Uckfield and Hastings could close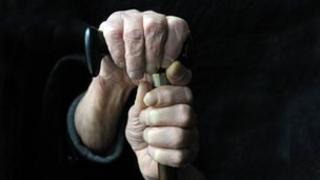 Two hospital wards for people with dementia in East Sussex could close under plans being considered by the NHS.
The East Sussex Clinical Commissioning Group is reviewing dementia services at Uckfield Community Hospital and at the Conquest in Hastings.
One or both of the wards could be shut under the proposals.
But critics fear closures will lead to longer travel times and leave some patients without the support they need.
The 34 beds on the wards have been under-occupied for years.
'Crisis situation'
Health chiefs are considering whether to reduce the number of beds at both hospitals, move the services to a single site, or close both wards.
Chris Quince, from the Alzheimer's Society, said people needed the beds when there was an "absolutely crisis situation" where they could not cope and carers were struggling.
He said: "Any resources have to be invested in community services, and you will always need a degree of these intensive beds in the community."
Dr Martin Writer, from the East Sussex Clinical Commissioning Group, said: "The vast majority of people with dementia will be receiving care in their own homes or very close to their families."
He said the closure of beds would free up more money to enable people to be cared for at home.
A public consultation into the proposals is under way.