Saltdean parent calls for teacher strike compensation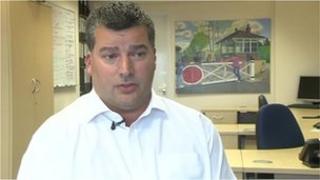 A father has told his children's school that he should be compensated for lost income and childcare costs if teachers go on strike next week.
Paul Yates-Smith said he would be fined if his children were absent without permission so he should be recompensed by Saltdean Primary if they cannot go.
The school is one of hundreds expected to close on Thursday because of regional strike action.
Brighton and Hove City Council said it was up to parents to make other plans.
Saltdean Primary School recently wrote a letter to parents saying it had below the national average attendance figures, a high number of unauthorised absences and they could be fined up to £120 if their child was absent without permission.
'One-way street'
Mr Yates-Smith, owner of the Brighton Business Bureau, said: "I completely respect the teachers' right to strike and stand up for what they are for and I wholeheartedly agree that they need to do that.
"However, I'm asking for more time so we can plan more effectively to continue what we do as business owners.
"I do feel that it's very much a one-way street with them threatening us with fines if we are unable to take our children to school. I do believe that it should be on both parties.
"If the teachers aren't going to work on that day because they have a strike, why should we be the ones that are financially penalised?"
In a statement Brighton and Hove City Council said: "A decision to close is never taken lightly, but once made the school cannot accept responsibility for any of the children on the strike day as the school will be closed."
Thursday's action is part of a continuing campaign of rolling regional strikes involving members of the NUT and NASUWT over pension changes, increased workloads and plans to bring in performance-related pay.