Brighton Station changes 'improve match days'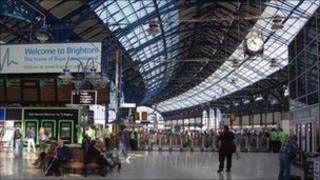 A £5m project to open up the concourse of Brighton Station will improve movement of passengers on to the platforms, according to Network Rail.
Changes to the station, including a new waiting room, cafe, shops and wider gates have been officially unveiled.
Network Rail manager Tim Robinson said the changes would significantly improve the flow of people on Brighton and Hove Albion match days.
"We are very confident it will deliver the benefits we hoped," he said.
"The station is much more open."
Southern Railway said the changes were intended to return the station to its original design, with better views of the historical train shed.
'Packed to capacity'
Caroline Lucas, Green MP for Brighton Pavilion, who was at the opening, said the London to Brighton line still suffered from overcrowding.
"As someone who travels on this train practically every day to London it really is packed to capacity and we do need to do something about it," she said.
"We need to look very closely at things like, firstly, opening the Lewes to Uckfield line and secondly looking to see whether there is a viable case to be made around a second line up to London."
Southern managing director Chris Birchell said capacity was an issue both on the tracks and the stations.
"As part of the Thameslink programme where we are spending £5bn transforming the tracks around London Bridge," he said.
"There's a new platform coming in at Gatwick next year and then some new trains arriving in the near future."