Brighton and Hove legal highs drugs clinics opened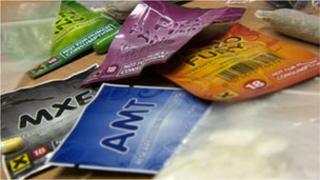 Specialist clinics to help people addicted to "legal highs" have been set up in Brighton and Hove.
Legal highs are chemical substances that can mimic the effects of illicit drugs, but are not illegal to possess.
Brighton medical student Hester Stewart, 21, died in 2009 after taking the then-legal drug GBL.
Her mother, Maryon Stewart, said Brighton was "the drug capital of England" and the clinics were "positive and helpful for the young people".
'Duped and misled'
"These lethal chemicals are absolutely everywhere and kids are taking them thinking that they're safe," she said.
"They need somewhere special that they can go because they're not drug addicts.
"They're just being duped and misled and they run into trouble and they need someone to help them."
Michael Lawrence, Brighton clinic co-ordinator, said people would be helped and given advice whether they were just thinking about using legal highs, or their use had become more of a problem.