Balcombe fracking protesters face new eviction threat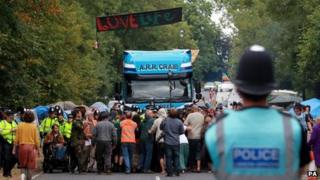 A council is to return to the High Court in a bid to evict people still at the site of an anti-fracking protest.
More than 1,000 protesters set up camp at the height of protests against oil exploration in Balcombe, in August.
West Sussex County Council said campaigners were putting themselves and others at risk by continuing to camp by a busy, unlit road with a 60mph limit.
It plans to reapply for a possession order for the roadside verges after a court hearing was adjourned last month.
'Flawed' application
The energy company Cuadrilla removed its drill rig and left the site on 27 September, with protesters giving assurances that they would also leave.
Last week the council handed letters to those still remaining, urging them to move from the verges on the B2036 London Road.
The authority went to the High Court last month to ask for a possession order, but the application was adjourned by Mrs Justice Lang, who described it as "flawed".
The council had until Tuesday to restore it in a new form, or it would have been either withdrawn or dismissed.
In a statement, it said: "The adjournment allowed us to return to court by 8 October if we felt we have sufficient concerns to support the application, and we believe this is the case.
"We will now be seeking a full hearing for possession of the verges.
"There is still a roadside encampment on this busy, unlit road which has a 60mph limit, and we believe the protesters are putting themselves and all road users at serious risk.
"As a responsible highways authority we cannot allow this to continue, so we will be returning to court and asking for a new hearing date, which we hope will be held in the very near future."