Jo Walters' sister helps open Brighton cycle lanes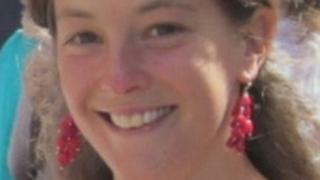 The sister of a cyclist who died in a crash on a dual carriageway in Brighton has helped to open new bus and cycle lanes in the city.
Jo Walters, 28, was killed in 2010 after swerving to avoid another cyclist on the A270 Lewes Road.
Her family commissioned a report that showed the cycle lane she was using was too narrow.
Ms Walters' sister Lucy Johnston said she hoped the new cycle routes would stop anything similar happening again.
Lost control
The accident happened as Ms Walters was cycling towards the Sussex University's Falmer campus.
She swerved to avoid another cyclist, but lost control before being struck by a passing lorry.
Brighton and Hove City Council said last year there had been 146 other collisions at the spot, 50 involving cyclists.
A celebration in Wild Park, Moulsecoomb marked the opening of the cycle and bus lanes in Lewes Road between the Amex stadium and the Vogue gyratory.
"These cycle lanes are much wider and they are clearly marked so if anyone has a moment of panic they know exactly where they should be," said Ms Johnston.
"It is awful speculating whether it might have made a difference to Jo, but I imagine it might have done.
"What I really hope is that it will stop anything like that ever happening again."
The Jo Walters Trust charity was set up by her family in memory of the newly qualified maths teacher, who was about to take up a job at Uckfield Community Technology College.
The road improvements were funded with a £4m government grant.
Transport minister and Lib Dem MP for Lewes, Norman Baker, said: "Cycling is good for public health but we have to make sure it is safe as well.
"There was a tragic accident here and that has been instrumental in helping to design the new scheme."