Littlehampton grants town freedom to James Bond unit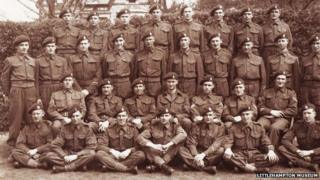 A Royal Marines unit named after the commandos who inspired Ian Fleming to create James Bond has received the freedom of a West Sussex town.
Troops from the 30 Commando Unit IX Group Royal Marines received the honour before marching through Littlehampton led by their band.
Ian Fleming founded and was Commanding Officer for 30 Assault Unit, and was based in Littlehampton during 1944.
The unit landed on Utah beach during the Allied invasion of Normandy.
The exploits of 30 Assault Unit later became the real-life inspiration for James Bond.
After training in Littlehampton and the D-Day assault, 30AU went on to seize the entire German naval archive, later used as evidence in the Nuremberg trials.
They captured top-secret German technology and some of the scientists behind it, and played a part in the capture of Hitler's successor, Admiral Karl Doenitz.
The unit's legacy was recognised in 2010 when Plymouth-based Royal Marines were renamed 30 Commando Unit IX Group.
Littlehampton Town Council conferred the freedom of the town on the unit to acknowledge the links between the two.
Some 80 troops were inspected on Caffyns Field in Beach Road before marching through the town centre.
"The council felt that granting the Freedom of Littlehampton to the 30 Commando IX Group would be an honourable salute to the bond shared by townspeople and the Royal Marines," said mayor Joyce Bowyer.
"I feel truly privileged to be the one carrying out the duties that accompany such an occasion and to be welcoming the troops and the remarkable Royal Band to our town."