East Sussex fire service 'still putting at lives at risk'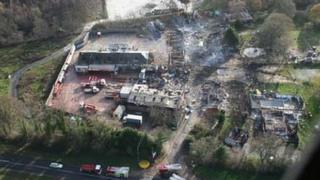 Firefighters in East Sussex are still being put at unnecessary risk because of a lack of training and resources, the Fire Brigades Union has claimed.
It said East Sussex Fire and Rescue had made no progress in protecting officers since the deaths of two firefighters in an explosion at a fireworks factory.
Geoff Wicker, 49, and Brian Wembridge, 63, died in the fire at Marlie Farm in Shortgate, East Sussex, in 2006.
The fire service said it had invested more in training.
Jim Parrott, executive council member of the Fire Brigades Union (FBU) for the South East, said lessons were not being learned from "the fire tragedies happening around the country".
'Not dealing with problems'
"We're repeating the same problems, and we're seeing examples of that in East Sussex."
He said union members in East Sussex were "repeatedly telling management" there were problems with planning, training, resources and equipment "and they're not dealing with them".
The chief fire officer for East Sussex, Des Pritchard, said the service had "invested significantly" in its training centre at Maresfield, which was now one of the best in the area.
"Over recent years we've invested considerably in training because it is a demanding and challenging role being an operational firefighter and it is not in my interest to try and do anything other than the best for my firefighters," he said.
Retained firefighter Mr Wicker and fire service cameraman Mr Wembridge were among the first to arrive at the Festival Fireworks site on 3 December 2006.
'Peace and justice'
Twenty others, mainly police and fire crews, were also injured in a massive explosion at the site, which sent fireworks and debris flying across the area.
Festival Fireworks' owners - father and son Martin and Nathan Winter - were convicted of the men's manslaughter and jailed for seven and five years respectively.
In July, High Court judge Mr Justice Irwin ruled in favour of the families and said they were entitled to compensation after months considering evidence given at a two-week hearing in London in February.
Insurers for the fire service want to overturn the court ruling, but the initial stages of its appeal were this week rejected.
The fire service now has 14 days to decide whether to continue with the process.
The FBU has urged ESFRS to pay compensation to the families of the two men, and give them "the peace and justice they have awaited for seven years".
Mr Pritchard said speaking from a personal point of view "it would seem to me that the compensation should be paid".
"This was a tragedy and it needs closure," he said.
"The legal process unfortunately has to run its due course and I would urge all those involved in it to move that forward as quickly as possible."