Motorbiker Paul Ancell twice legal limit in death crash, inquest told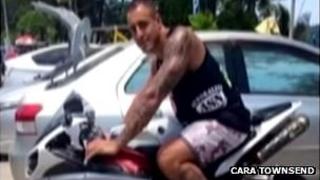 A professional kick-boxer from Sussex, described as a gentle giant, died when he crashed his motorbike on a notorious road in Thailand, an inquest has heard.
Paul Ancell, 31, had twice the legal limit of alcohol in his blood and was not wearing a helmet when he crashed, on 21 April, the hearing was told.
His sister said she did not believe Mr Ancell would have taken such a risk if he had been in the UK.
Brighton coroner Dr Karen Henderson ruled that Mr Ancell died accidentally.
'Just two pints'
The inquest heard that Mr Ancell, who grew up in Worthing and had lived in Shoreham and Chichester, had gone to Thailand to do more training in the sport he loved.
But he died instantly when he crashed into a roadside barrier on a road where several others have died.
After his death, family and friends raised nearly £5,000 to bring his body back to the UK because he was not covered by travel insurance.
His sister, Cara Townsend, said after the verdict: "In this country Paul wouldn't have taken that risk, but when you think of it, as little as just two pints, that's all it really equals. It's not a lot.
"And my brother was just short of seven feet, so I'm sure that wouldn't have been any factor towards the accident."
She added: "A lot of people felt intimidated by his size, but once they got to know him they just knew he was a big softie, really."