Restoration work for Eastbourne's historic bandstand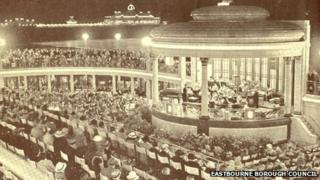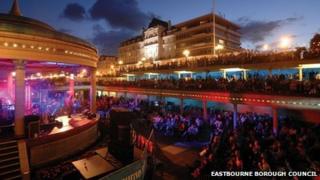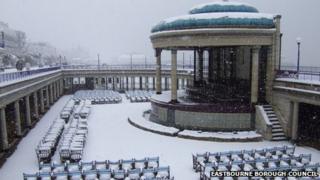 A bandstand that has entertained the East Sussex resort of Eastbourne for nearly 80 years is undergoing a revamp after decades of cold winters and salt air corroded its steel framework.
The defects under the domed roof were discovered during a routine survey.
Work will also be carried out to the colonnade and promenade seating areas.
Elizabeth Rickey, front-of-house manager at the Cumberland Hotel, which overlooks the site, said it was a key landmark which drew people to the town.
The bandstand on Eastbourne's Grand Parade was built in 1935, and has a main arena, and middle and upper balconies.
It closed to the public this week following the final concert of the season, and will reopen by next Easter.
Ms Rickey said it was the perfect time for the renovation although the bandstand "still looks very good and the work is not immediately obvious".
She added that the best place to view Eastbourne's annual airshow was from the venue, and the town would be "lost without it".
The first phase of restoration works to the bandstand over the winter months are scheduled to cost £245,000.
Up to 150 concerts are held at the site each year.