Sussex budget cuts 'hit frontline policing'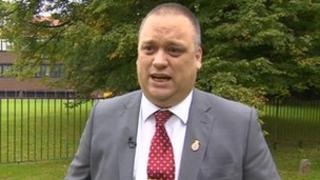 Police in Sussex say budget cuts have led to increased workloads, a poorer response to emergency calls and less neighbourhood policing.
Hundreds of members of Sussex Police Federation are to challenge Chief Constable Martin Richards on the cuts at a meeting in Brighton later.
"The mood is one of concern - officers have been pushed from pillar to post," said chairman Paul Sellings.
Mr Richards said new ways of working had reduced the impact of cuts.
Sussex Police has lost 300 officers over the last three years as a result of £52m cuts imposed by the government by 2015.
The police federation says the cuts mean that patrols must prioritise which 999 calls they go to.
It says figures show response times have dropped to 72% within 15 minutes from 90% three years ago.
"The cuts are impacting on frontline policing and emergency response times," said Mr Sellings.
'Alarming statistic'
He said neighbourhood policing had to be "abandoned" over the summer because of the demands of policing the anti-fracking demonstrations at Balcombe.
"It is quite ironic that it took 300 Sussex officers to police Balcombe, which is the same amount that we've lost since 2010," he said.
The chief constable said the drop in 999 response times had come as a shock.
"That's an alarming statistic which we have done a lot to address," Mr Richards said.
"We have done that by operating our police cars with just one police officer in the car rather than two when it is safe to do so."
He said neighbourhood policing was significantly reduced during the Balcombe protests in August, but the impact was lessened by using staff who would have been on days off or who were being paid overtime.
At least 12 other police forces also sent officers.
Sussex Police and Crime Commissioner (PCC) Katy Bourne said there had been an issue with emergency response times, which was now being addressed.
"Recently we opened recruitment in Sussex for the first time in three-and-a-half years, so we have recruited an extra 80 police officers," she said.
"These are proper police officers, not PCSOs."
Mr Richards is meeting the police federation members at the Metropole Hotel in Brighton.