Two killed and three hurt in crash near Chichester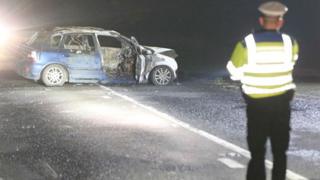 More information has been released after two elderly women were killed when two cars collided in West Sussex.
The women passengers from London, aged 75 and 74, died after a Volkswagen Golf they were in turned into the path of a Honda Civic, Sussex Police said.
The Golf, driven by an 85-year-old woman, was turning right off the A285 at Selhurstpark Road near Chichester at 22:45 BST on Saturday.
She, and a 74-year-old woman passenger, both from London, were hurt.
They were taken to hospital in Brighton with serious injuries.
The driver of the Golf had broken bones and her passenger complained of chest pains, a Sussex Police spokeswoman said.
A 28-year-old driving the Honda, and a 25-year-old passenger, both men from Chichester, suffered whiplash.
Police are appealing for witnesses to come forward.