Two elderly women die in crash near Chichester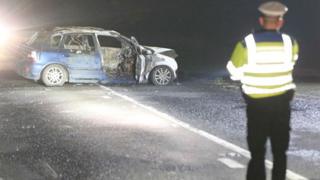 Two elderly women were killed and four other people taken to hospital after two cars collided in West Sussex.
One of the cars burst into flames following the crash on the A285 at Upwaltham, near Chichester, at about 23:00 BST on Saturday.
The driver and passenger managed to escape and were taken to hospital.
However two elderly passengers in the second car died at the scene, with the car's driver and a third passenger being treated in hospital.
Police are appealing for witnesses to come forward.