Edenbridge response to flooding tested by volunteers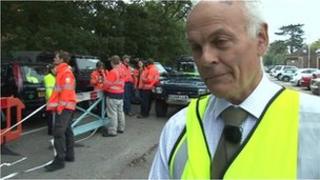 An emergency exercise to test a town's response to massive flooding took place in Kent.
The exercise in Edenbridge on Saturday involved 140 people from about 15 different voluntary organisations, including search and rescue and river patrol teams.
The town suffered a large flood 45 years ago.
Clive Pearman, emergency coordinator, said "it was only a matter of time" until it happened again.
The exercise was organised by Sevenoaks District Council.