West Sussex archives from 1,200-years-ago on show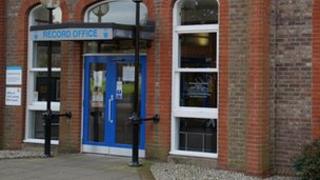 A record office has opened its doors to the public allowing them to see archives dating back 1,200 years.
The open day at the County Record Office, in Chichester, includes tours of the "strongrooms" where millions of documents are stored on more than 25 miles of shelving.
Cinefilm footage taken over the past 100 years is also available to watch.
Councillor Lionel Barnard said it was a "terrific opportunity" to see the "treasures" up close.