Orchid View inquest: Manager Michael Lindo 'has regrets'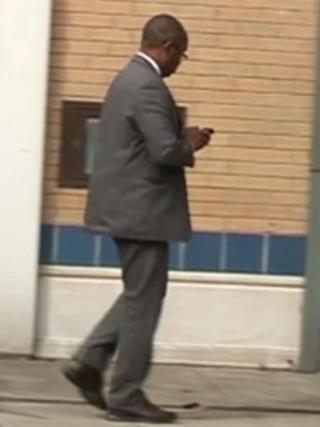 The former clinical manager of a West Sussex care home broke down in tears giving evidence at an inquest into 19 unexplained deaths of residents.
Michael Lindo said he regretted he had not achieved what he wanted to do when he took the job at Orchid View in Copthorne, nearly Crawley.
The home, which was closed in 2011 and reopened under a new name and new management, was run by Southern Cross.
Mr Lindo said employees at the home were not given adequate training.
"Ultimately I signed on the dotted line to say I'd make things better in that home and when I look back I feel I didn't achieve what I set out to do," he told the inquest in Horsham.
"I have regrets and it's difficult to live with that."
He said some nurses were unable to able to carry out basic procedures such as removing catheters and that staff did not receive adequate support from managers at regional level.
'Cover night shift'
Mr Lindo, who worked at the home in 2011, was asked about residents' care plans and said about 75% of them were not updated.
He said that on some occasions medication was not given at the correct time.
Staffing issues meant that when there was no-one to cover overnight he would often have to step in and work the shift himself on top of his normal working hours.
He said that was mainly because the now defunct Southern Cross would not allow Orchid View to employ agency staff.
He also said that some staff were employed at the home when criminal records checks had not been done.
Relatives of some of the 19 residents who died have told the inquest that food was of poor quality and their loved ones lost a lot of weight while staying at the home.
Mr Lindo alleged that one of the main chefs at Orchid View had no hygiene training.
The inquest continues.