Hair-pulling Brighton woman talks about condition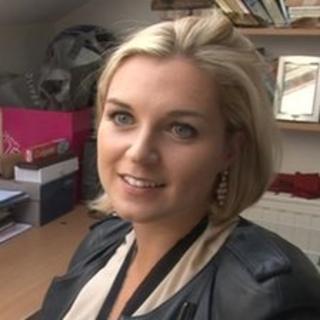 A Sussex woman who responded to stress at university by pulling her hair out is raising awareness of the condition as part of a new national campaign.
Katie Neiman, 29, from Brighton, is one of 840,000 sufferers in the UK who has the condition trichotillomania (TTM).
She first started compulsively pulling out her hair at the age of 21 during her final year at Oxford University.
She said: "I started twiddling my hair and began to pull, hair by hair, and got a strange satisfaction from it."
Bald patch
Ms Neiman said she kept pulling her hair when she was on her own, bored, or was stressed due to her exams. and had found the sensation "quite fulfilling".
"It feels good and it's a very quick sort of fix," she added.
Ms Neiman said after about a year she had no hair on the crown of her head and a huge bald patch.
Hair loss expert Lucinda Ellery said the condition was a problem as there was "no real deep understanding that it's actually a clinical syndrome".
"For women who actually have a pulling disorder it's humiliating and embarrassing, and of course they're full of self blame," she said.
Treatments such as cognitive behaviour therapy have not worked for Ms Neiman, and she now has to use a specially designed mesh of hair to cover the bald area, and has admitted that the habit could last her whole life.