Jasmine Elkamsi: Family tribute to 'beautiful girl'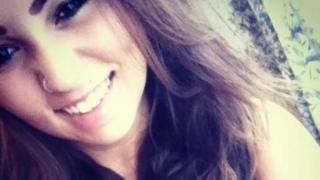 The family of a teenager who was killed in a crash in West Sussex have paid tribute to a "beautiful and intelligent girl".
Jasmine Elkasmi, 16, from Bognor Regis, died on Saturday when the car she was a passenger in rolled on to its side in Halnaker, near Chichester.
Two other passengers - both 16-year-old girls - were taken to hospital.
A 17-year-old boy from Chichester was arrested on suspicion of causing death by dangerous driving.
He has been released on bail until 2 December.
In a statement, Jasmine's family said: "Jazzy was a beautiful and intelligent girl, loved by so many.
"She was so caring and considerate of others, always making them laugh with her wonderful sense of humour.
"There was never a situation in which she could not find the funny side and even though she has left us far too early, she will carry on living within our hearts and memories.
"We are so proud and blessed to have had her as a part of our family. She will never be forgotten.
"She will always be a loving daughter, sister, auntie, granddaughter and friend," they added.
The family thanked well-wishers for their kindness, support and tributes.