Beachy Head lighthouse repainting 'going well'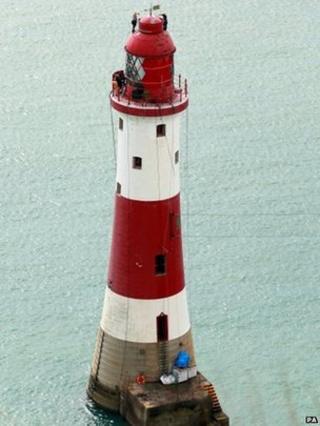 Painters have begun work to restore the red and white stripes of the landmark Beachy Head lighthouse off East Sussex.
Contractors say fine weather since the weekend has allowed the repainting to get off to a good start after a £27,000 fundraising campaign.
So how do you paint a 148ft-high tower perched at the foot of sheer white chalk cliffs?
"It's not easy," said Jim Bruckshaw, from the Hailsham contractors assigned to the job.
"We have to do it from the top down rather than the bottom up. The problem is you can't really put scaffolding into the sea."
A team of workmen, which includes two abseilers, will stay at the lighthouse, near Eastbourne, for the duration of the three-week project.
They will apply five coats of paint to the copper lantern at the top and three on each hoop of the tower.
"The abseilers will be working on that," said Mr Bruckshaw. "It is quite a process which certainly keeps us on our toes.
"We seem to have a lot of people watching us as well.
"But the guys do it a lot on the jobs they work on so they are pretty used to it."
Sussex Blast Cleaning has previously worked on the Cutty Sark and HMS Belfast in London and HMS Warrior in Portsmouth as well as other industrial and renovation projects.
Local people in East Sussex took two years to raise the funds for the work after owners Trinity House said the granite structure would be left to revert to its natural colour because of cost.
"It was going to be let go to natural stone," said campaigner Martin Welling.
"It was a bit ridiculous because it is an icon of the town so it was very important to have our traditional red and white stripes."
Supporters who backed the repainting campaign included broadcaster John Craven, writer Bill Bryson and comedians Eddie Izzard and Griff Rhys Jones.
It is hoped the new coat of paint will last at least 10 years.
The Beachy Head lighthouse was brought into service in 1902 to replace the Belle Toute on the cliff top nearby.
The decision to stop painting it red and white was made because ships nowadays use electronic rather than visual navigation.