Balcombe Cuadrilla test drilling for oil reveals 'hydrocarbons'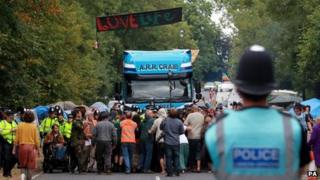 Energy firm Cuadrilla has confirmed it found "hydrocarbons" during drilling at a West Sussex site which has been the focus of anti-fracking protests.
The company, which started test drilling for oil in Balcombe on 2 August, said it had completed its operation and the "well was a success".
It will now start removing equipment before its permission for the site runs out on 28 September.
More than 1,000 activists set up camp at the height of protests in August.
Campaigners fear the test drilling could lead to hydraulic fracturing, also known as fracking, at the site.
'Strain of protest'
Cuadrilla chief executive Francis Egan said: "The well is now closed off for the coming months as Cuadrilla applies for planning permission to come back and test flow rates.
"We appreciate that the Balcombe community has had to bear the strain of protest, as have our on-site and support team and contractors.
"We commend West Sussex County Council and police for both facilitating peaceful protest and preserving order."
The energy firm drilled a 3,000ft (900m) vertical well and a 2,500ft (750m) horizontal bore, but said it would need fresh permission to frack for oil.
On Monday, an anti-fracking campaigner blocked the B2036 London Road outside the drilling site with a van and then a woman locked herself to the top of the vehicle, according to Sussex Police.
The force has been overseeing the encampment and ensuring deliveries entered the site.
Supt Lawrence Hobbs said the blockage was "once again causing significant disruption to the local community".
"We will clear the road as soon as we are safely able to do so, but please be aware that your journey may be delayed and you may need to consider an alternative route," he said.
'Possession order flawed'
Police said there was likely to be disruption during the week as up to 20 vehicles a day had to be escorted in and out.
Officers said this was to reduce the risk of them being delayed by protesters.
Last week, West Sussex County Council went to the High Court to ask for a possession order for the verges where the camp is set up.
But Mrs Justice Lang said the application was flawed.
The council must present it in a new form by 8 October, or the application will be withdrawn or dismissed.
The council has said the camp is unsafe because it is beside a busy rural 60mph road which is unlit at night.