Sussex stonemason accused of failing to deliver gravestones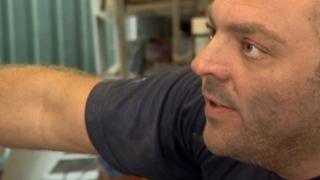 A stonemason is being investigated by East Sussex trading standards after being accused of failing to deliver gravestones.
Lee Fouracres, who traded as Eastbourne Marble and Granite Ltd, is accused of letting down a number of bereaved families.
War veteran Joe Williams said he failed to deliver a memorial to lost Bomber Command airmen at Beachy Head.
Mr Fouracres denied any wrongdoing and said he had hundreds of happy clients.
Debbie Smith said Mr Fouracres was paid £1,000 and said it would take about three months to produce a headstone for her mother Winifred's grave.
But the grave had no headstone for more than a year after her death.
Mrs Smith said she asked for a refund, but Mr Fouracres did not respond. She said she had to find another company, and pay again.
"I think he's completely ruthless, he hasn't got any consideration for the impact of his behaviour on other people and he's incredibly selfish," said Mrs Smith.
'Terrible loss'
Ray Fry, 75, paid Mr Fouracres a £1,000 deposit in August 2011 for a headstone after his wife Billie died.
Eight months later, the gravestone still had not been erected. Mr Fry died in April 2012.
His daughter Liz Martin said: "It was upsetting.
"You can't lay anyone to rest can you until there's something solid up, and that's what he wanted to do, he had plans of what he wanted to do with the gravestone, the area afterwards, and of course he couldn't do it.
"I think he gave up the will to be honest, it didn't help, he gave up. It didn't kill him, but it certainly didn't help."
Joe Williams, 91, was a rear gunner with Bomber Command No 625 Squadron during World War II.
In 2010, having received enough donations from the public, he asked Mr Fouracres to produce a large granite memorial to the more than 55,000 airmen who died.
He paid £7,000 and Mr Fouracres did some preparation work, sent some documents and eventually laid the foundations and base for the memorial.
Mr Fouracres was paid an additional £1,800 but did not follow the plans and the Bomber Command Tribute Beachy Head Committee was unhappy with what he had done.
Legal action was taken and a judge at Northampton County Court ordered Mr Fouracres to pay £7,900 and £245 costs on 10 October 2012, which has yet to be paid.
The Bomber Command tribute was eventually put in place at Beachy Head after Mr Williams used his personal savings to cover the money he lost so that another stonemason could finish the job.
'Not a crook'
Mr Williams said he had a mental breakdown following the ordeal.
Speaking to the BBC's Jon Hunt from his workshop at Westham, near Pevensey, Mr Fouracres said he still had Mrs Martin's headstone because the family had refused to pay for it.
Mrs Martin said they were never asked for the balance and were told Mr Fouracres was going to complete the remaining works free of charge because of the circumstances. He disputes her claim.
Mr Fouracres said he had difficulty getting the stone Mrs Smith had ordered at first, but she had accepted an alternative and should have waited another three weeks for the headstone, as they had agreed in writing.
He said he was out of pocket because he paid for all the materials. However, the BBC has spoken to his supplier, who has no record of the order.
Mr Fouracres blamed the Bomber Command Tribute Beachy Head Committee for the delays to that memorial, saying members could not decide on designs and did not provide him with them on time.
He said the conditions at Beachy Head made it difficult to carry out the work, and claimed he did not know about the county court claim against him, or he would have defended it.
He did admit to ignoring the committee because they were visiting on a daily basis.
He said he refused to do any more work because they paid £1,800 into the wrong bank account, but the BBC checked with the bank which said it was paid into his account.
"I've done nothing wrong," Mr Fouracres said.
"My only fault, as an individual, is perhaps a slight bit of lack of organisation from time to time.
"If that makes me a bad man then so be it. But I am not a crook."
Inside Out South East is broadcast on Monday on BBC One at 19:30 BST. It is also available nationwide for seven days thereafter on iPlayer.