Girl killed in Halnaker crash named as Jasmine Elkamsi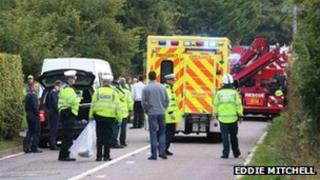 A girl who died when the car she was in lost control and crashed has been identified.
Jasmine Elkasmi, 16, from Bognor Regis, was killed when the Vauxhall Corsa rolled on to its side in Tinwood Lane, Halnaker, near Chichester, on Saturday.
A boy, 17, from Chichester, and two girls, both 16, from Bognor, who were also in the car were taken to hospital.
Police appealed for witnesses, including the white male driver of a black car, possibly aged in his 50s.