Hastings' 'hidden gem' celebrates charitable status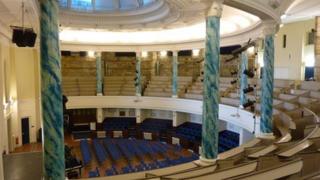 The newly-acquired charitable trust status of a former church in East Sussex, described as a "hidden gem", is being marked with a day of celebration.
St Mary in the Castle, in Hastings, was built in the 1820s but fell into a state of disrepair after it was sold by the Church Commissioners in 1982.
Restoration work began after Hastings council bought the freehold and in 1998 it reopened as a cultural centre.
It was given charitable trust status after a local school took on the lease.
The listed Georgian landmark, built into the cliff on the seafront, is the centrepiece of Pelham Crescent.
'Sadly under-used'
Zoe Ashdown, manager of St Mary in the Castle, said Buckswood School - a private school in nearby Guestling - had hired the venue for an event, but felt "it was sadly under-used by the local community".
It took over the lease on the building last December.
She said the school donated money to provide "the impetus needed" to set up a charitable trust and "get the venue open and welcoming more people inside than it has ever done before".
Ms Ashdown said the plan for the future of the building, which has an auditorium, crypt gallery, and a meeting room, was to "get it busy, and get it used".
Saturday's celebration will include entertainment for all ages, along with tours of the building.