PC who tweeted fracking protesters were 'scum' given 'advice'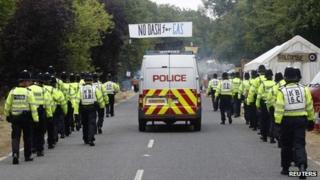 A PC who tweeted anti-fracking protesters in Balcombe were "scum" has been given management advice, Sussex Police has said.
The comment on a personal Twitter account by the unnamed PC was seen by a member of the public who complained to the force.
Sussex Police said such comments were unhelpful and unacceptable.
Balcombe village saw major protests against test oil drilling by Cuadrilla amid fears of future fracking.
The force said the officer had been identified following the tweet.
The member of the public wrote on Twitter: "#balcombe @sussex-police should your officers really be calling protesters 'scum' on twitter? I suggest you issue some guidance ASAP."
'PC identified'
A statement issued by Sussex Police said: "Sussex Police has received a report of a personal Twitter account belonging to a Sussex officer, which is abusive to protesters at Balcombe.
"The officer has been identified and has received management advice about their actions.
"We have worked hard to engage with everyone involved in and affected by the activities surrounding the drilling operation at Balcombe and no matter who authors them, such comments are unhelpful and not acceptable."
More than 1,000 activists set up camp at the height of the protests in Balcombe during the summer.
The energy firm was drilling a 3,000ft (900m) vertical well and a 2,500ft (750m) horizontal bore, but said it would need fresh permission to frack for oil.
Sussex Police spent seven weeks overseeing the encampment and ensuring deliveries entered the site.
The cost of the policing operation hit more than £2.3m.
This week, West Sussex County Council went to the High Court to ask for a possession order for the verges where the camp is set up.
But Mrs Justice Lang said the application was flawed.
The council must present it in a new form by 8 October, or the application will be withdrawn or dismissed.
The council has said the camp is unsafe because it is beside a busy rural 60mph road which is unlit at night.