Eastbourne head teacher defends shooting 'as sport'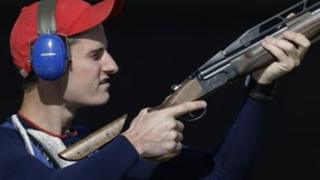 A head teacher who faced criticism for allowing children as young as eight to take part in clay-pigeon shooting has said the activity is a national sport.
Pupils at West Rise Junior School in Eastbourne took part in shooting during a day of countryside activities.
Critics said junior school children should not be introduced to guns.
But Mike Fairclough, head teacher of the school in East Sussex, said British Olympic gold medallist Peter Wilson was introduced to the sport at age seven.
Mr Fairclough said: "Shooting is a national sport for which Britain holds the Olympic gold medal."
He also said Amber Hill, now 16, who is the youngest winner of a senior World Cup in her sport, started shooting at the age of nine.
'Inducting children'
Peter Squires, from the Gun Control Network, said: "There will be a proportion who go on to misuse their guns. There will be a proportion who go on to shoot animals.
"I think we've got to be careful about inducting children into sports that cause public safety issues and have implications for how we treat and respect the environment."
Mr Fairclough said the shooting activity had an educational remit at the state-funded school which served two council estates.
During the day of countryside activity at the school, which uses its 120 acres of marshland and two lakes to teach children about the environment, pupils were also fly fishing, working with gun dogs, bird watching, and learning about habitats, he added.
The school has sheep, chicken, pigs, goats and water buffalo on its grounds which the children help to look after.
Experts coached the pupils who each used a small shotgun to fire four shots at clay discs from a secure cage, he said.
The children were taught about gun law, safety, use of guns in the countryside, and consequences of misuse, he added.
He said no-one had complained to him about the activity but there had been an "illusion that's there's been a big row" following media reports.