Beachy Head lighthouse repainting begins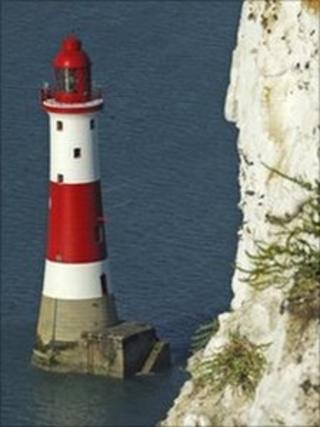 Work has begun on repainting the red and white stripes on Beachy Head lighthouse in East Sussex.
Paint has been loaded on to a boat to take to the working lighthouse, with scaffolding being put up later.
It follows a £27,000 fundraising campaign to save the stripes.
Owner Trinity House had said the cost of repainting the granite lighthouse could not be justified, but campaigners began a fundraising drive to keep the landmark as it is.
The money was raised by last November but organiser of the Save Our Stripes fund Shirley Moth said it took several months to find a firm to do the work and organise supplies of the paint.
'Fundraising continues'
"It's a special paint, not particularly for lighthouses, but something that will last for 10 years or more," Ms Moth said. "That took time and the job had to go to tender."
She said the lighthouse used to be repainted every 10 years.
If the lighthouse needed repainting in a decade's time, campaigners would fundraise again, she added.
"We have still got the fund open and we have still got a bit of money," she said.
Jim Bruckshaw, from Sussex Blast Cleaning, said the team painting the landmark had taken three weeks' supplies in case they could not get back to land because of the weather.
He said: "We've got to provide for that, but hopefully the weather looks a bit better, so we will be able to get on and off [the lighthouse].
"But the main purpose is to get on with the work and get it done in the window of opportunity we have."
Supporters who backed the repainting campaign included broadcaster John Craven, writer Bill Bryson and comedians Eddie Izzard and Griff Rhys Jones.