Sussex Police arrest four over house stabbing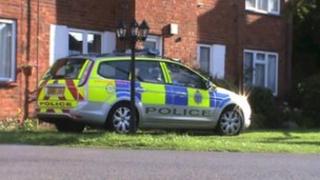 Four men have been arrested and two of the suspects have been critically injured in stabbings in West Sussex.
The injured men were taken to hospital in what was thought to be a life-threatening condition after an incident at a house in Rustington on Friday.
Officers who found the victims and others covered in blood said there had been a very serious incident.
Sussex Police have arrested four men, including the two men in hospital, on suspicion of attempted murder.
'Serious stab wounds'
Det Insp Rob Walker said paramedics treated two men at the house in Oakhurst Gardens at about 21:20 BST.
One of the men was found outside the house and one inside.
He said: "It was immediately apparent that a very serious incident had occurred at the property with victims and others at the house being covered in blood."
He added: "Initial indications are that those involved all knew each other, but there is some confusion as to who was in or around the house at the time."
Anyone who saw what happened or who has any information is urged to contact the force.
The two in hospital, aged 24 and 47, who had serious stab wounds, were in a stable condition and recovering on Saturday.
Two others, aged 44 and 52, both from Rustington, remained in custody on Saturday.