Storrington pollution: Low emission zone plan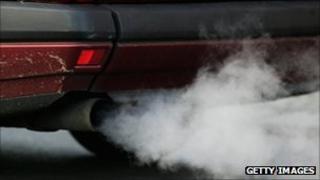 A low emission zone is being considered for a West Sussex village that failed an air quality test three years ago.
There had been calls for a total HGV ban in Storrington, but Horsham Council said this had proved challenging in how it would be enforced.
The council said a low emission zone could make possible a partial "ban" on the most polluting HGVs.
It said work by Horsham and West Sussex councils found a low emission zone was the most feasible traffic option.
Assessments of traffic management options, which included installing gates and banning lorries, were carried out by the two local authorities in consultation with Sussex Police.
'Differing priorities'
Horsham councillor Sue Rogers said: "Air pollution in Storrington is predominantly related to the high volumes of through traffic."
She added: "Progress is not as rapid as I would have liked but we need to balance public acceptance of possible solutions and the differing priorities of our partners.
"Nevertheless we are moving forward and we will continue to explore ways of managing this problem."
Levels of nitrogen dioxide were found to exceed national standards in Storrington in 2010.
Horsham Council said it had continued to monitor air quality since then.
Nitrogen dioxide levels fell between 2010 and 2011, and then rose in the following year, but 2012 levels were less than those in 2010.