'Incompetent' sailor's boat impounded by Sussex coastguards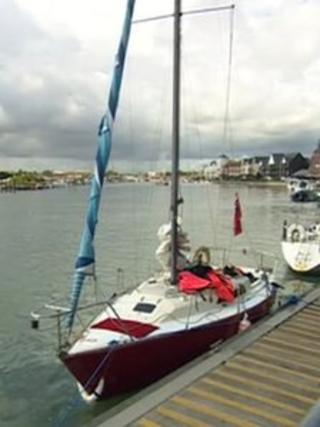 A man has had his boat impounded after lifeboats were called out five times to incidents off the Sussex coast.
The Marine Coastguard Agency imposed an open-ended detention on the boat after concluding the man, who is in his 20s, was "under-prepared" for sailing.
In the past week, the 21ft vessel twice ran aground at Littlehampton and was left at sea as the skipper swam ashore.
He will not get his boat back until he has completed sailing training and repaired damage sustained to the boat.
Skipper 'embarrassed'
Billy Johnson, Littlehampton's harbour master, said the boat remained the property of the sailor.
"I think he's embarrassed. He's got himself in a large mess in a short space of time," he added.
Mr Johnson said the vessel was detained on grounds of crew competency, after the skipper demonstrated he was unsafe to go to sea.
In a statement, the Maritime and Coastguard Agency said: "The boat has been detained as dangerously unsafe.
"Once our surveyor is happy that the boat and skipper have met the necessary requirements, then the detention notice will be lifted.
"We have provided the skipper with guidance about maritime safety - and are willing to discuss this further with him - as part of measures being taken to address this issue."