First Brighton council homes in 20 years unveiled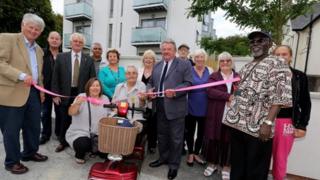 The first council houses built in Brighton for 20 years have been unveiled in the city.
Fifteen new homes, owned and managed by Brighton and Hove City Council, have been built in Wellington Road.
They consist of three four-bedroom family homes and 13 flats with either one or two bedrooms. Some tenants have already moved in.
The council said there were currently hundreds of families waiting for four-bedroom houses.
The development, called Balchin Court, was built on the site of outdated sheltered housing.
Bill Randall, chairman of the council's housing committee, said: "Demand massively outstrips supply for housing in Brighton and Hove so these new homes and the more than 400 in the pipeline represent a massive boost to the city."
He said another 100 homes were in the pipeline, and sites for a further 300 had been identified on council estates across the city.
Mr Randall added that the authority had bid for government funding to build 45 extra-care flats and was working on plans for another 30 council homes on other sites.