Smoke 'enters' Bexhill High School classrooms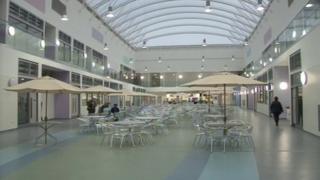 The health of students and staff at a school in Sussex has been put at risk by smoke entering classrooms from the school's chimney stacks, a union says.
The GMB said there had been a problem with the flues from biomass boilers at Bexhill High School since the new building opened three years ago.
The school said the issue did not pose a health risk, but that it was working to "rectify the defect".
However, the GMB said health and safety "cannot be compromised".
The school was taken over by the Prospects Academies Trust in 2012, two years after construction was completed.
A spokeswoman said: "We have been advised that the design and construction of the biomass boilers and associated flues was in full compliance with all current regulations.
"However, the exhaust flues from the biomass boiler were identified by the school as needing correction."
'Nuisance'
The company which built the school, Kier, said it had investigated concerns about the school's biomass boiler.
A spokesman said: "Our research showed that although the smoke can cause a nuisance in certain conditions, there are no health and safety issues connected with this.
"However, we have now modified the design in order to minimise the inconvenience caused."
However, Rachel Verdin, from the GMB, said the issue could cause asthma.
"One of the key problems is that it is very much dependent on the weather, literally which way the wind blows," she said.