Balcombe camp eviction: Protesters arrested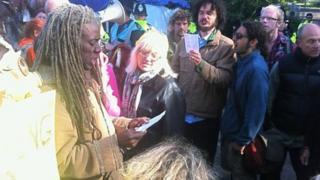 Six anti-fracking protesters have been arrested after they were warned to leave their camp in Balcombe, West Sussex or face eviction.
The protesters are located near the site where energy company Cuadrilla is carrying out exploratory drilling work in search of oil.
West Sussex County Council had warned the protesters to leave their camp by 09:00 BST.
About 100 people gathered outside the gates to the drilling site.
The BBC's Simon Jenkins said: "The group of 100 protesters were gathered outside the gates, singing songs.
"Officers went in and removed people from the protest."
West Sussex County Council said it had instructed its agents to seek an order for possession since the protesters had not left by the deadline.
It said it would lead to people, roadside tents, canopies and caravans being removed from the B2036 London Road.
"We would hope that people will still leave of their own accord and, again, we would encourage protestors to use the defined area where peaceful protest will be facilitated," the spokesman said.
Protester Daniel Evans said the request to leave would "politefully be declined".
The protesters fear test drilling could lead to hydraulic fracturing, or fracking.
'Defined protest area'
Sussex Police said the B2036 London Road was closed at Balcombe for more than an hour earlier after protesters pulled a caravan across the carriageway, blocking it in both directions.
A force spokesman said a man had locked himself to the vehicle and a "protest removal team" was called to release him.
The 26-year-old man was arrested, along with two men who tried to prevent a lorry arriving at the site and a 34-year-old man from Balcombe, said to be the first villager to be arrested over the protests.
Ch Supt Paul Morrison said said more than 100 people had been arrested since the protest began in July.
"We have provided an area where protesters can clearly see and be seen to be carrying out their legitimate right to peaceful protest opposite the entrance to the drilling site," he said.
"While they do this we are quite happy to facilitate their protest, but the criminal activities of some are having a significant impact on the local community and this is not acceptable."
In a statement, the county council said the action was being taken to protect all road users, and was not about removing the right to peaceful protest.
A spokesman said: "This is a very busy road with a 60 mph limit, and unlit at night. There are increased safety concerns that as a responsible highways authority we must address."
He said there had been a number of incidents which gave rise to new concerns, including an incident where a man climbed a tripod in the middle of the road, which cars had to avoid.
Balcombe resident Helen Savage said that villagers were worried about the noise of the drilling at night.
Cuadrilla said drilling was halted on Saturday evening after the firm came close to reaching the maximum noise limit. It resumed on Monday after noise abatement equipment was installed.
Last week, Cuadrilla announced that it had withdrawn an application for an extension to its planning permission for exploratory drilling at Balcombe.
A new planning application for the site will be lodged in the near future, the firm said, but this will not go in front of the committee before next year.