Priest Roy Cotton sex abuse victim 'ready to move on'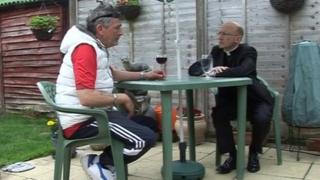 A man who was sexually abused as a child by a Church of England priest has confronted his past and says he can finally move forward with his life.
Brian Bond, 49, was born in Birmingham but placed into foster care in Eastbourne, East Sussex, as a baby in 1965 by his single mother.
However, he said his formative years were far from happy, with mistreatment from his foster mother leaving him psychologically and physically abused.
At the age of eight, Mr Bond came into contact with the Reverend Roy Cotton, a Church of England priest who he met through a church connected to his primary school.
Cover-ups and lies
Cotton took advantage of his vulnerability, subjecting him to a prolonged period of violent sexual abuse. Mr Bond was also sexually abused by one of his associates.
Cotton worked for the Diocese of Chichester in the 1970s and 1980s despite being convicted of a sexual offence against a boy in 1954. He died in 2006 without ever being brought to justice.
By the age of 12 the sexual abuse had ended and Mr Bond had been placed with a different foster family.
East Sussex County Council has since acknowledged that Mr Bond "was let down" during his time in care, and has offered him a full apology.
"Although not placed in care by East Sussex, the supervision and monitoring of his placement by the authorities at the time was clearly inadequate," it said.
'Incredible integrity'
Mr Bond, who has waived his anonymity, is still waiting for an apology from the authority which was ultimately responsible for his care.
Birmingham City Council said it would not comment on individual cases.
His social services file, seen by BBC Inside Out South East and South East Today, reveals that his mother, and his father once he had married her, made numerous attempts to get their son back to live with them and his siblings in Birmingham.
"I know they attempted to get me back but unfortunately decisions were made where I was better off where I was and that wasn't the case," Mr Bond said.
He added that if his mother was still alive, he would have probably not told her about the abuse he suffered as a child.
"I think the guilt would just kill her," he said.
'Comfort and admiration'
As part of the process to put his past life behind him, Mr Bond, who still lives in Eastbourne, agreed to meet the Bishop of Chichester, Dr Martin Warner.
In April, Dr Warner admitted in a private letter of apology to a former choirboy abused as a child by Cotton that there had been "deception and cover-up".
Two months later, during a private visit to his home, the bishop apologised for the sexual abuse Mr Bond had suffered as a child and for the church's failings.
Speaking afterwards, Dr Warner said: "When one hears what somebody has been through in the way that he has, it's extremely humbling.
"But he's a person of incredible integrity, and honesty, and courage... in terms of facing the damage that's been done to his life and working through it, and now facing a future in which he's looking for peace, for a new start."
Mr Bond said a year earlier he would never have had the bishop "near his doorstep", but "what he said to me, I actually believed".
Family reunion
He added he "actually got some kind of comfort" and admired the way that he said there had been failings, cover-ups and lies.
Mr Bond said: "He did say, 'I am sorry for what the church stole from you' - my childhood, right up through my life, right to the present day."
In August Mr Bond was finally reunited with the brother and three sisters he thought he had lost, who in turn had also been searching for him through social service departments in Eastbourne and Birmingham.
However, by that point both his parents had died.
"You can't keep hiding behind what happened in the past all the time," Mr Bond said.
"But to actually get out there and get hold of it, which has been stressful at times... but it's been well worth it to find out who I am now, to realise people love me, people have been looking for me, and that is worth more than any money in the world."
Inside Out is broadcast on BBC1 South East on Monday 9 September at 19:30 BST and nationwide on the iPlayer for seven days thereafter.