Liar soldier Harry Killick jailed for gun theft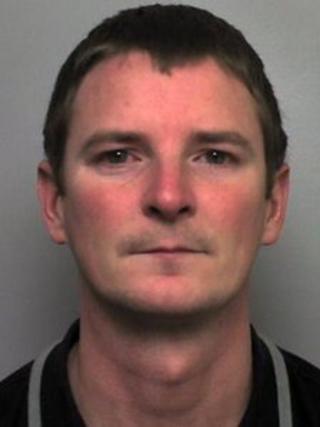 A Territorial Army soldier who admitted stealing a rifle and ammunition from his barracks in Brighton has been jailed for five years.
Cpl Harry Killick, of Peacehaven, said he had Post Traumatic Stress Disorder (PTSD) and planned to kill himself when he stole the items, last October.
Judge Anthony Scott-Gall, sitting at Lewes Crown Court, ruled he had lied about his experiences in Afghanistan.
Killick, 37, said he saw people killed and injured during his tour of duty.
He had returned to Britain from Afghanistan seven months earlier.
Killick, of Ambleside Avenue, faced a mandatory jail term of at least five years but his lawyer suggested he be handed a more lenient two-year suspended jail sentence with a requirement he undergo therapeutic treatment.
Loaded weapon
He pleaded guilty in January to possessing a prohibited weapon and stealing a firearm and ammunition, but sentencing was adjourned to consider appropriate possible treatments.
However, following a special sitting of the court after Killick's version of events was called into question - known as a Newton hearing - Judge Scott-Gall said although he had been "accurate and truthful" in many areas, "in the critical areas, he was not".
"I'm quite satisfied that this defendant began this process by telling lies... and has sought to continue these lies because he had no other alternative," he said.
Killick was arrested after firearms officers were called to the Ditchling home of his former girlfriend on 19 October last year.
He had gone into the property with a fully-automatic weapon and a round of live ammunition.
Mental state
Although Jackie Lothian was not there, her 41-year-old brother Jason was, and he called police when Killick confronted him with the SA80 assault rifle after loading it in front of him.
As part of his sentence, the judge imposed an indefinite restraining order for Killick not to contact his ex-girlfriend or her brother.
The court heard that in his defence, Killick's lies had included he had witnessed comrades from the Princess of Wales' Royal Regiment (PWRR) killed and injured.
However, Judge Scott-Gall said there was only one fatality during the tour and that was of a soldier unconnected to Killick's platoon, and he had been nowhere near the incident.
Lt Col Geoffrey Minton, the commanding officer of his regiment, said: "The only issue that Cpl Killick had with Afghanistan was to do with the tour having finished and returning to civilian life."
The court heard the trigger for the theft came after he was told he would not be joining comrades on a shooting practice weekend amid fears for his mental state.
'Mounting disappointment'
It was told that his marriage had broken down, he had split up with his girlfriend, and was about £20,000 in debt.
Judge Scott-Gall said: "There is clear evidence as to why the defendant took the course that he took, having suffered mounting disappointment in the only life he had known i.e. the life of the TA where he was considered a valued member of the team, a value which seemed to be evaporating."
Outside court, Killick's father, Michael, said: "It's not what we wanted, obviously, but he's done wrong.
"We knew that the minimum was five years, and what else can we say? We are all really upset, but we think Harry will cope."
Tony Gauvin, who runs the charity PTSD Resolution, said not enough weight was given to the possibility that PTSD could have been delayed in its onset in Killick.
He said: "I think [the sentence] is over-harsh. There was insufficient attention paid to the impact of PTSD on a person after the event."