Gun theft soldier Harry Killick denies PTSD lies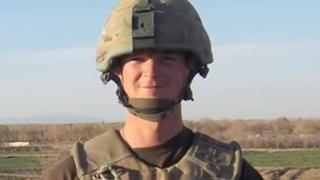 A soldier facing jail for stealing a rifle and ammunition from his barracks has denied lying about seeing comrades killed in Afghanistan.
Cpl Harry Killick claimed he suffered from Post Traumatic Stress Disorder after witnessing people being killed and injured during a tour of duty.
The 37-year-old told Lewes Crown Court he had not exaggerated his experience.
He has admitted possessing a prohibited weapon and stealing a firearm and ammunition from Brighton's TA barracks.
Taking the witness stand during a special sitting of the court - known as a Newton hearing - Killick, from Brighton, categorically denied that he had made up his experiences at war, or that he had exaggerated his symptoms for PTSD.
'Mental state'
Under cross-examination, prosecutor Oliver Dunkin suggested to Killick that the trigger for the theft came on 19 October last year after he was told he would not be joining comrades on a shooting practice weekend amid fears for his mental state.
Mr Dunkin suggested it had more to do with his "personal circumstances" than his experiences in Afghanistan.
Killick, of the Princess of Wales' Royal Regiment, said: "I disagree, totally."
Mr Dunkin went on: "That it's to do with the breakdown of your relationship, your debts, the way your ex-girlfriend treated you, and not to do with your job in Afghanistan."
Killick again responded: "I totally disagree."
Questioned about what he had seen during his time in Afghanistan, Killick said: "I saw people killed and I saw some of my own patrols, not majorly, but injured in a way."
Lt Col Geoffrey Minton, commanding officer for his regiment, said in a statement on Monday that although Killick would have known about fatalities, he did not witness them.
'Adjustment disorder'
The court has also heard statements from medical experts.
Psychiatrist Dr Roderick Ley said months after his return to Britain from action, Killick had told him his health had worsened, resulting in him becoming suicidal and travelling to Beachy Head, in East Sussex, after saying he could no longer cope.
Dr Ley said although his symptoms were consistent with PTSD he felt it was "highly concerning" that Killick's account of events in Afghanistan did not match the army's.
"In my opinion, Mr Killick has falsified his symptoms of PTSD," said Dr Ley.
"The most likely explanation is that he suffered from adjustment disorder."
In contrast, another psychiatrist, Dr Derek Tracy, said there was nothing in Killick's demeanour to doubt his account, and he added his symptoms had worsened since being held on remand in prison.
The case was adjourned until Wednesday.