Balcombe protests: Fracking row village sees fresh plan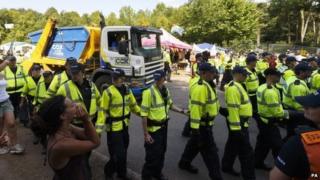 Oil drilling will cease in a village at the centre of an anti-fracking campaign by the end of September, but further testing could take place under new plans by energy firm Cuadrilla.
Protests were staged in Balcombe over fears test drilling for oil could lead to hydraulic fracturing, or fracking.
Drilling will end by 28 September under planning conditions set out in 2010.
But Cuadrilla said it would make a fresh application by the end of the month to carry out further well tests.
The energy firm received planning permission three years ago to drill a 3,000ft (900m) vertical well and a 2,500ft (750m) horizontal bore south of the village in a search for oil.
West Sussex County Council said Cuadrilla had earlier applied to extend drilling work in Balcombe for six months and increase the height of a flare at the site - but that application had been withdrawn and a planning meeting set for 19 September had been cancelled.
The council said the energy firm had told the authority that a new planning application would be made in the near future.
It also said the new application would not go in front of the planning committee until a date in 2014.
'No fracking'
Cuadrilla said the new application would be to continue well testing at the site at Lower Stumble, but with revised boundaries.
The energy firm said planning consent given in 2010 had set out boundaries on the surface of the site.
But it said it wanted to resolve potential legal ambiguity about underground boundaries - for a horizontal well below the surface.
It said its new plans would not include any further drilling or fracking.
In a statement, the energy firm said: "As this is a new planning application, the county council will consult with interested third parties and we will have the opportunity for further engagement with Balcombe residents about our well testing plans.
"We will continue doing all we can to conclude our exploration work in a safe, responsible and timely manner."
'Victory for campaigners'
Huge protests were staged outside the site of the drilling over fears the exploratory work could lead to fracking, which is the process of forcing water, chemicals and sand at high pressure into shale rock deposits underground.
Dozens of people were arrested throughout the summer, including Green MP Caroline Lucas.
Campaigners have claimed that Cuadrilla's decision to withdraw plans to extend drilling are a victory for them, but the energy firm has said its changed plans are because of boundary issues.
Louisa Delpy, Balcombe resident and member of No Fracking in Balcombe Society (Nofibs), said: "This is a victory for our campaign and we thank everyone who raised objections, but we know that the problem has not gone away."
Greenpeace energy campaigner Leila Deen said Cuadrilla's plans were a "dog's dinner".
She added: "They only recently submitted an application to extend the drilling window; now they have already withdrawn it and admitted they are reassessing the programme.
"It is not clear if this is a shift in direction or if the company merely got its sums wrong."
This story was amended on 4 September in the light of new information supplied by Cuadrilla