Cricket pavilion named after Sir Patrick Moore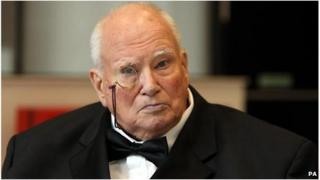 A cricket pavilion in West Sussex is being named after the late astronomer Sir Patrick Moore who was an active member of the club for over 40 years.
The BBC Sky at Night presenter, who died in December 2012, had been involved with Selsey Cricket Club since the 1960s as a player and secretary.
On Wednesday a plaque will be unveiled and the building officially renamed the Sir Patrick Moore Pavilion.
Club president John Reeves, said: "He was such a hero to the club."
Sir Patrick become involved with Selsey Cricket Club after moving to the town from East Grinstead in the 1960s.
'Enthusiastic cricketer'
Mr Reeves said: "His main position was batting number 11 and he was very proud when his average was one or two a season.
"But many times he rescued us at the end."
Sir Patrick was not just a player, but was also a scorer and secretary for many years, holding committee meetings at his house.
He even helped build the pavilion in 1972, which was an old school classroom and had to be dismantled, moved to the club site and then rebuilt.
The plaque will be unveiled by one of Sir Patrick's oldest friends, astronomy expert Dr John Mason.
He said: " He was a very enthusiastic cricketer, he was not much of a batsman, he was a bowler."