Stuck pony rescued from Sussex swimming pool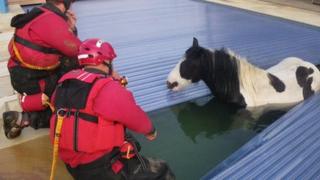 Fire crews and RSPCA officers have rescued a pony which got stuck in a swimming pool.
The animal was found up to its neck in water in the shallow end of the outdoor pool in Marsh Lane, Runcton, near Chichester, West Sussex on Thursday.
Emergency services pumped thousands of gallons of water from the swimming pool before they led the pony out.
The RSPCA has arranged short-term care for the animal but appealed to anyone who knew its owner to get in touch.
RSPCA animal welfare officer Marie Stevens said: "We had a vet on standby to check him over and he started eating straight away, so we knew he was not too troubled by his watery adventure."