Woman arrested after motorcyclist dies in Climping crash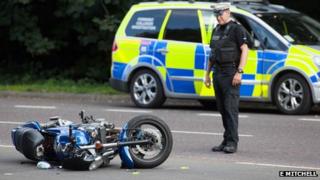 A woman has been arrested on suspicion of causing death by careless driving after a motorcyclist died in a crash in Sussex.
The 53-year-old, from Bognor Regis, was arrested after her Vauxhall Corsa was in collision with the motorbike in Climping on Sunday.
The 48-year-old motorcyclist died at the scene of the crash, which happened at 14:00 BST in Crookthorn Lane.
A 74-year-old woman died in a separate collision in Hailsham on Sunday.
Her Hyundai IX20 crashed with a Peugeot 207 driven by a 40-year-old man on the B2104 Ersham Road. Both drivers were from Hailsham, police said.
A 70-year-old male passenger in the Hyundai was taken to the Royal Sussex County Hospital in Brighton with a broken hand and injured sternum.
A 10-year-old girl and two men aged 21 and 34, all from Hailsham, were also taken to the same hospital and discharged after treatment.
The road was closed until just before midnight.
Police have appealed for witnesses to both crashes to come forward.