Balcombe protests: Policing anti-fracking demo cost £2.3m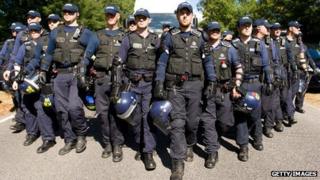 Policing the anti-fracking protests in Balcombe, West Sussex, has so far cost £2.3m, according to the Sussex Police and Crime Commissioner Katy Bourne.
Sussex Police have scaled down their presence at energy firm Cuadrilla's test drilling site, but demonstrators are still camped by the roadside.
Ms Bourne estimates the cost will reach £3.7m by the end of September and has asked the government for support.
Protesters have described the police operation as "overkill".
Cuadrilla is drilling a 3,000ft (900m) vertical well and a 2,500ft (750m) horizontal bore south of the village in a search for oil.
Campaigners fear the current work could lead to fracking - or hydraulic fracturing - in the future, but the energy firm said that would require fresh permission.
More than 30 people were arrested, including former Green Party leader and Brighton Pavilion MP Caroline Lucas, during the Reclaim the Power camp organised by campaign group No Dash For Gas.
Policing the camp, which attracted about 1,000 people, cost £1.5m, including aid provided by 10 other police forces, according to Ms Bourne.
'National issue'
She said: "It is important that taxpayers are kept updated on the ongoing costs of this policing operation.
"The increased involvement of national protest groups has meant that Sussex Police has had to deploy significant additional resources, including mutual aid from other police forces and this has put a strain on the police budget.
"Sussex Police is policing what I believe is a national issue. What happens in Sussex may determine what will happen nationally across police force areas in the future."
Ms Bourne added: "I have now spoken and written to the policing minister confirming that I will be applying to the Home Office for funding to meet the additional costs of this policing operation, once the final figures are known.
"We anticipate that the final cost of this operation will be approximately £3.7m."
Civil disobedience
Ewa Jasiewicz, from No Dash For Gas, said the police response was "overkill".
She said: "We don't think that taxpayers' money should be used to protect a private corporation that is not acting in the public interest."
She said that during the camp hundreds of people were trained in direct action and civil disobedience.
"The message to Caudrilla is that this is not over," she added.
Sussex Police said 80 people had been arrested since protests against Cuadrilla's operations began in July.
The energy firm suspended work during the protest camp, but resumed operations on Wednesday afternoon.
The Home Office said the funding called for by Ms Bourne was provided when police forces face "unexpected or exceptional costs" that would otherwise threaten their financial stability.
However, it said the grants are only considered when the additional costs exceed a minimum of 1% of the force's annual budget.
Sussex Police received £252.8m for its operations in 2012-13.