Up to 120 protesters remain at Balcombe Cuadrilla site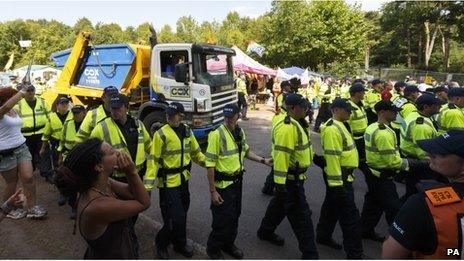 Up to 120 anti-fracking protesters are still camping by the roadside near a test oil drilling site in West Sussex.
A six-day Reclaim the Power camp, which brought about 1,000 people to Balcombe village, has ended.
Sussex Police have scaled down their presence at the site but said officers would remain there for some weeks.
Energy firm Cuadrilla confirmed it had resumed drilling operations and more deliveries had been made. The company suspended work during the camp.
Cuadrilla is drilling a 3,000ft (900m) vertical well and a 2,500ft (750m) horizontal bore, south of Balcombe.
Campaigners fear the current drilling work could lead to fracking, or hydraulic fracturing, in the future.
The energy firm said it would need fresh permission to frack for oil.
Protesters who remain at the site are continuing a locally-run campaign that began on 25 July.
Most people left the Reclaim the Power Camp, which was a mile down the road, by midday on Wednesday.
Supt Lawrence Hobbs said the original camp remained and added: "We still expect to need a presence at the site for a number of weeks."
He said officers would continue to balance the "important but sometimes conflicting" rights of all parties at Balcombe.
"Cuadrilla's right to carry out their legal work is being upheld and, with more than 1,000 people now having expressed their right to peaceful protest, it is notable that the vast majority have done so visibly and vocally, with relatively few arrests."
He urged people to be mindful of residents in the village and said: "Four weeks in, many are also growing weary of the impact this high-profile event is having on their right to peaceful life."
More than 30 people were arrested, including Green Party MP Caroline Lucas, during two days of direct action during the Reclaim the Power camp.
Nine of those were charged and are due to appear in court in September.
Ms Lucas, Brighton Pavilion MP, was bailed and will find out whether she will face charges next week.
On Wednesday, 11 other anti-fracking protesters appeared before Crawley magistrates and denied causing disruption at the site earlier this month.
Related Internet Links
The BBC is not responsible for the content of external sites.