Boy, nine, and pony in Rudgwick hit-and-run crash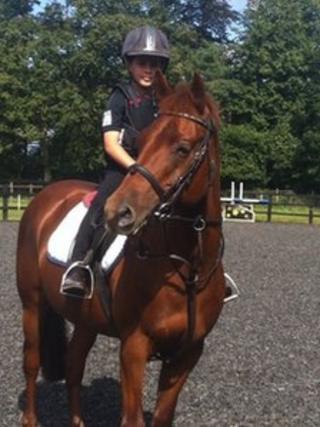 A nine-year-old boy and his pony were struck by a car that drove off without stopping in West Sussex.
Joshua Kindell fell into a hedge while his horse Tango ran off, dragging the boy's mother Kate, who had been holding the reins, with it.
Joshua and the pony suffered bruising and Ms Kindell had to be treated for a hand injury in hospital.
Police are appealing for witnesses to the crash, which happened in Rudgwick at about 10:00 BST on Monday.
The incident, which involved a silver car, happened along the Loxwood Road.
Silver Peugeot
"I just suddenly heard a massive bang where the car had obviously gone in to the back of the pony," Ms Kindell said.
"Josh came flying off the pony and went into the hedge.
She said they went down the road every day, and had not had an issue before on the straight piece of road.
"I don't think anyone could say that he [the driver] didn't know what he had done," Ms Kindell said.
"He blatantly could see that his wing mirror had come off. He must have looked back in his rear view mirror and seen that there was a child, a pony and another casualty and then driven off.
"It angers me so much, how someone could leave a child like that in the middle of the road."
Police are carrying out forensic tests on a wing mirror that was knocked off in the impact.
Officers have seized a silver Peugeot and are trying to confirm whether it is the vehicle that was involved.