Anti-fracking protest MP Caroline Lucas released on bail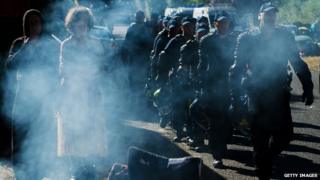 An MP who was arrested during anti-fracking protests in West Sussex has been released on bail.
Caroline Lucas and her son were among about 30 protesters arrested near Balcombe, where energy firm Cuadrilla is drilling for oil, on Monday.
The Green MP for Brighton Pavilion will learn next week whether she is to face charges.
Riot police were deployed earlier and three people were arrested. Several lorries were able to enter the site.
A Sussex Police spokesman said fireworks and drugs had been seized from an area of woodland close to the drilling site where a number of people had confronted a land owner who asked them to leave on Friday.
Campaign group No Dash For Gas, which is holding a six-day protest camp nearby, said activists were "preparing for further direct action".
'Don't need fracking'
This will include discussions about continuing support for the long-term camp at Balcombe and planning future action elsewhere in the UK.
Of the arrested protesters, nine have been charged with a range of offences, including wilful obstruction of the highway.
Some campaigners complained the police were too heavy-handed while clearing protesters, including the use of a "pressure point" technique where officers press down on particular parts of the body to cause momentary pain.
However, Supt Lawrence Hobbs said the use of the technique was "proportionate".
He said: "It is uncomfortable, it can be momentarily painful depending on how much the person resists, but it is instantly relieved when they co-operate and does not cause injury."
An officer who was filmed not wearing epaulettes during an arrest would be spoken to about why they were missing, he said.
Many of the protesters fear oil drilling might lead to fracking at the Balcombe site in the future, although Cuadrilla said that was beyond the terms of its current licence.
Fracking - or hydraulic fracturing - is a technique designed to recover gas and oil from shale rock.
Speaking on BBC Breakfast, Ms Lucas said: "I think together we were able to make a very strong message to the government to say that we don't need and we don't want fracking."
She also denied the protest was disrupting Balcombe residents.
"I think one of the most refreshing things has been to see just how welcoming people in the village have been," she said.
'Self-promotion'
Tom Harris, Labour MP for Glasgow South, criticised Ms Lucas on Twitter, saying she "was always going to get arrested - that was the only point of her being there. Pure self-promotion."
Ms Lucas denied this saying she only wanted to talk about fracking.
Cuadrilla suspended its exploratory drilling operations at Balcombe after the activists set up a six-day camp near the site on Friday.
Campaigners began 48 hours of direct action on Monday, forcing their way into the company's headquarters in Lichfield, Staffordshire, and gluing themselves to the London HQ of Bell Pottinger, Cuadrilla's PR company.
Cuadrilla said it condemned all illegal direct action against its operations.
Richard Ponsford, who farms the land the camp is on, said he would normally use it to graze his 900 sheep.
"When they [the activists] leave there will be a bit of a lasting effect on the grass, where it won't grow so well because of the tents and footfall," he said.
He said they the activists had agreed to start packing up at 10:00 BST on Wednesday and were expected to be gone by Thursday.