Gatwick Airport handling fault grounds 3,000 bags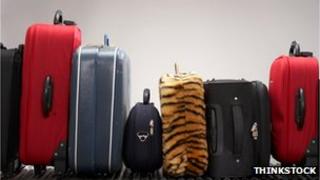 Thousands of passengers jetted off from Gatwick Airport without their luggage following a baggage handling fault.
About 3,000 bags did not make it on to the correct aircraft on Sunday because of a problem with the automated sorting system at the North Terminal.
The airport said extra staff sorted the baggage manually and any items not loaded in time were put on the next available flights.
Affected passengers have been advised to contact their airline on arrival.
The airport said the problem had applied to outbound, and not inbound, flights.
A spokeswoman for the West Sussex airport said staff prioritised long-haul passengers, further contingency plans were put in place overnight and there were no reported problems on Monday.
The airport hopes to have the automated sorter, one of two at the North Terminal, running again shortly.
'Apologise to passengers'
In a statement, Gatwick Airport said: "Yesterday there was a technical issue with one of the baggage sorting systems in the North Terminal.
"Extra resource was drafted in to manually cage the bags for loading.
"This ensured that the vast majority of bags were loaded on to planes without issue.
"We worked closely with our airlines and their baggage handlers to make sure that any missed bags were loaded on to the next available flight so passengers could be reunited with their luggage.
"There have been no baggage issues this morning. We apologise to any passengers who may have had their flights impacted yesterday as a result of this issue."
Gatwick Airport said it usually handled about 40,000 to 50,000 bags on a Sunday during the summer.