Eastbourne Langney Shopping Centre gets approval for nine new shops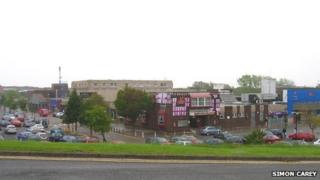 Plans for nine new shops have been approved at an East Sussex centre which closed in December after the roof collapsed.
It comes after many traders at Langney Shopping Centre in Eastbourne were forced to shut for several months.
They say they were charged thousands in rent during the closure, but the centre's owner said that was necessary for insurance claims.
The new plans include a "flagship" store, which has not yet been decided.
Fleur El-Hspa, who owns the Picasso Express restaurant, said "it would be great" to have a major shop in the centre.
"It's really fantastic we're all back in, that was the main problem, we wanted to get in as quickly as possible," she added.
But she and other traders are still angry they have been invoiced for the rent for the period when they were closed. She said most had not yet paid.
'Tremendous relief'
London & Associated Management Services Ltd, the owner of the shopping centre, said demands had to be issued in order for traders to claim against their insurance, and all compensation issues were confidential.
Local Liberal Democrat councillor Alan Shuttleworth said Langney was more than just a shopping centre but a community centre, with a post office, library, cafe and meeting place
"It's obviously been a very difficult time over recent months for local traders and indeed for the local community," he said.
"There's a tremendous sense of relief to have that centre open again."