Chichester pair arrested over assisted death claim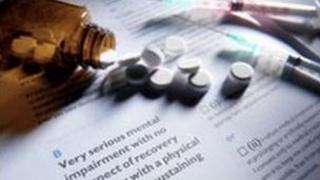 A man and a woman have been arrested over claims they could be planning to take a "vulnerable" pensioner to end his life at a clinic in Switzerland, police have said.
A woman, 65, and a man, 25, have been questioned on suspicion of encouraging or assisting a suicide.
Sussex Police have asked for an assessment of the 71-year-old man's capacity to to make his own decisions.
The man and woman, both from the Chichester area, have been bailed.
The force said officers would be carrying out further inquiries.
'Possible dementia case'
In a statement, a police spokesman said: "Police have been made aware of suggestions that a man and a woman from West Sussex could be planning to take a vulnerable pensioner to the Dignitas clinic in Switzerland so that he can end his life."
He said it was an offence to encourage or assist suicide under the Coroners and Justice Act 2009.
Officers were investigating whether any crime had been committed or was likely to be committed if they did not take action, he added.
BBC correspondent Sophie Hutchinson said the two people who had been arrested were the man's wife and son, and there were suggestions that the 71-year-old man was in the early stages of dementia.
'Scrutiny of motives'
She said in cases relating to dementia, Swiss doctors required a psychiatrist to assess a patient's mental capacity to ensure they were competent to make the decision to end their life.
She said: "Cases such as there are rare. The first reported case of a British person with dementia choosing to go to an assisted dying clinic in Switzerland was in May this year."
In 2010, Director of Public Prosecutions Keir Starmer QC clarified the legal position on assisted suicide.
Fresh guidelines placed closer scrutiny on suspects' motives, and whether they had acted "wholly compassionately" and not for financial reasons.
However, Mr Starmer made it clear the advice did not represent a change in the law and did not cover so-called mercy killings.
The 2010 guidelines were the result of a case brought by Debbie Purdy, a terminally ill woman, who in 2009 won a ruling from the Law Lords requiring the director of public prosecutions to set out whether her husband would be committing an offence if he accompanied her to Dignitas to end her life.
In 2012, MPs backed the guidelines.
'Suicide tourism'
Assisting suicide remains a criminal offence in England and Wales, punishable by up to 14 years in prison, but individual circumstances in each case are now more likely to be taken into account.
Over the past 14 years, Dignitas has helped more than 1,000 people to die with about 150 Britons choosing to die at its facility in Zurich.
In Switzerland, assisted suicide is legal as long as the helper does not personally benefit from the death.
The Swiss government has tried to reduce what has been referred to as "suicide tourism".
But the majority of voters in Zurich have backed assisted dying and also the practice of foreigners travelling to the country to end their lives.
In a poll in May 2011, about 85% of voters in Zurich rejected a call to end legalised assisted suicide, and 78% rejected a call to ban foreigners from travelling to Switzerland to end their life.
The arrested man and woman have been bailed until October.