Balcombe oil drilling: Hundreds join protest camp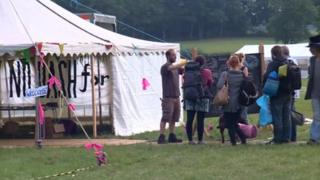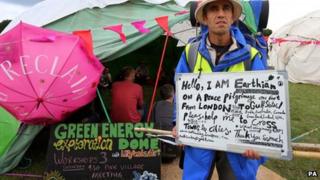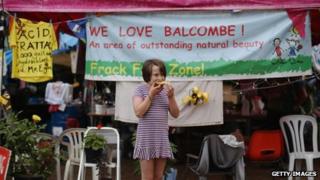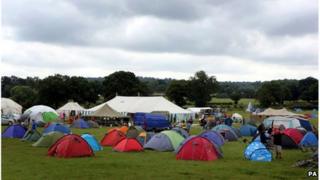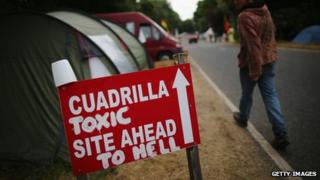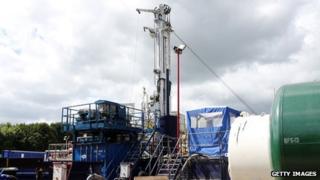 Anti-fracking protesters have continued to gather at a camp in West Sussex where test drilling for oil is taking place.
Hundreds of people have arrived at the No Dash for Gas camp, which is in its second day, with about 1,000 expected by both organisers and police.
Energy firm Cuadrilla is looking for oil near Balcombe but has not ruled out using fracking to extract shale gas.
Cuadrilla has scaled back its test drilling during the camp.
However, its chief executive Francis Egan said drilling would continue at the site as soon as it was safe to do so.
On Saturday, BBC correspondent Mark Norman said about 200 people were camping at the first protest site, which had been there since 25 July.
He said a further 200 were at a protest camp set up by No Dash for Gas with more people arriving by the hour.
He said: "Today, the camp is very much like a festival with workshops, a legal tent, and a welcome tent, and a kitchen serving up pasta.
"People are setting up their tents. It is a settling-in type of day. The whole camp is powered by solar panels.
"Tomorrow, there will be a bit more direct action and some training."
He said protesters were due to march from Balcombe to the Cuadrilla site south of the village on Sunday afternoon.
On Saturday, police arrested a man in connection with threats made to a local landowner who asked a group encamped on land close to the drilling site to leave.
The 23-year-old man was being held in custody on suspicion of a public order offence.
Sussex Police claims the protest has cost the force £730,000 so far.
'Trespass risk'
Supt Lawrence Hobbs said officers from 10 other forces had joined Sussex police officers in Balcombe.
He said: "A decision has been made by Cuadrilla to suspend drilling operations this weekend.
"The company has its own security team, but has considered the risks and has made its own decision with regard to the potential risks posed by the large number of protesters expected over the weekend."
He added: "Given the health and safety risks associated with it being an industrial site if access is gained by trespassers, we believe their decision to be a wise one."
Cuadrilla is drilling a 3,000ft (900m) vertical well and a 2,500ft (750m) horizontal bore, but said fracking for shale gas would need fresh permission.
Ewa Jasiewicz, from No Dash For Gas, said earlier: "We want to stop Cuadrilla... they have no social licence to operate in Balcombe or anywhere else - they have no democratic mandate.
"This is the mood of the country and the government don't realise that."
She said the group was in a "working relationship" with the farmer who owns the land where the protest camp is based.
However, Richard Ponsford, who owns Sidney Farm, said the activists came on his land without his permission.