Derelict Hastings Pier to undergo £14m restoration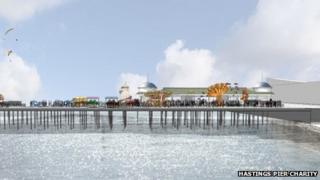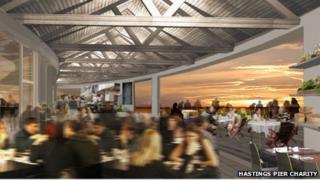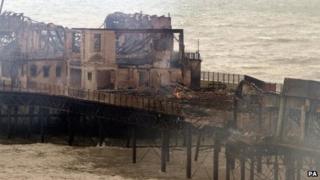 The derelict Hastings Pier is to undergo a £14m restoration after the Hastings Pier Charity formally took on its ownership.
The 140-year-old structure was almost completely destroyed by fire in October 2010.
Renovation work is due to start later this month, which will include refurbishing the remaining pavilion and building a new visitor centre.
The project is due to be completed in the spring of 2015.
The Panamanian company Ravenclaw, which owned the pier, was issued with a compulsory purchase order after it failed to carry out repair work.
The order was granted in 2012 and the council formally took ownership of the pier on Wednesday.
A spokeswoman from Hastings Borough Council said most of the £14m came from the Heritage Lottery Fund.
'People's Pier'
Significant amounts also came from the Coastal Communities Fund, Community Assets Fund, Hastings Borough Council and East Sussex County Council, she said.
She said the project would create work during its restoration, and claimed the new pier would boost visitor numbers to Hastings.
Simon Opie, CEO of the Hastings Pier Charity, which will oversee the work, said: "We want to offer a 21st Century take on the traditional English pier and for it to be used often by locals and visitors alike, a 'people's pier'."
"Now, finally, with the transfer of ownership from Ravenclaw to the Pier Charity the partnership has realised its goal," Peter Chowney, the council's lead member for regeneration, said.
"The pier is in local ownership and the money is in place to restore it.
"So, today is a very important day in the history of Hastings Pier and a real cause for celebration.
"It's a major step forward in returning Hastings Pier to its rightful place as a major attraction on our seafront."