'No victory flags' for Balcombe anti-fracking protest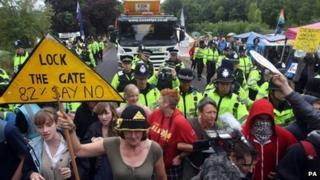 Anti-fracking protesters have said they are not waving victory flags after energy firm Cuadrilla said oil production was unlikely to take place in the West Sussex village of Balcombe.
Charles Metcalfe, campaigner and resident, said he was taking the news with "several tablespoons of salt".
Cuadrilla, which is carrying out test oil drilling, said work could end in a few months if people let it "get on".
Protesters have delayed work at the site over hydraulic fracturing fears.
Mr Metcalfe said: "Cuadrilla have told us things in the past and then very soon afterwards completely reversed what they have just said.
"I take that news with several tablespoons of salt. I am not waving victory flags at all."
'Running scared'
Organisers of the six-day Reclaim the Power camp starting on Friday at Balcombe said Cuadrilla was "trying to muddy the waters" with its latest comments.
Ewa Jasiewicz, from No Dash for Gas, said Cuadrilla was "running scared", and added: "It is no coincidence this comes before a major action and mass mobilisation targeting them. We don't take this seriously."
Andrew Pendleton, head of campaigns at Friends of the Earth, also said the firm's rhetoric was "shifting fast in the face of overwhelming opposition".
He said communities did not want their quality of life and environment threatened by fracking, and were sceptical about claims it would bring cheaper fuel bills
Cuadrilla has said while Balcombe is "ideal" for exploration, other sites were more suited to producing oil.
Matt Lambert, the firm's director of government and public affairs, said the exploratory borehole at Balcombe was previously drilled in 1986, the firm knew oil was there, and the site was geologically the best place for exploration.
'Something big planned'
But he said: "It's not a great site for production because production is a completely different thing.
"Exploration for oil is a short-term project.
"Really, if the protesters would let us get on and do our work we would be finished in a few months' time."
He also said if further work was needed in Sussex, the company would need planning permission and regulatory approval which would all go to public consultation.
Balcombe Parish Council chairwoman Alison Stevenson said villagers were "refreshed" by the latest news from Cuadrilla.
She also said if No Dash for Gas were coming to the village with the intention of breaking the law then Balcombe Parish Council wanted them to stay away.
"We have heard rumours that they are planning something quite big on Monday. It might be a trespass at the site," she said.
"We have really laid down the law on them saying the village as a whole here is a 100% against that kind of activity."
Meanwhile, eight people appeared before Crawley magistrates on Wednesday charged with causing disruption during anti-fracking protests at Balcombe.
All the defendants, who are accused of placing a log in the road and blocking access to the site, denied the charge.